'Hidden Bristol - Mentor's first broadcast production
Bristol's hidden gems will be unveiled in a one off special programme, 'Hidden Bristol' set to launch on the city's dedicated TV channel, Made in Bristol Tuesday 3rd March, 8pm. Broadcasting on Sky Guide 117, Freeview channel 8 and Virgin 159, the programme will be fronted by popular local TV presenter, Richard Wyatt.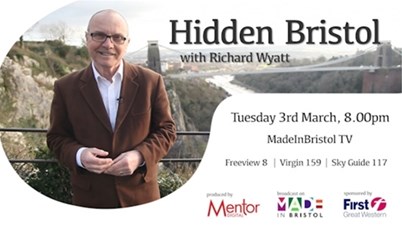 'Hidden Bristol' lifts the lid on the city, past and present, revealing Bristol's buried treasures: from unusual industries and famous neighbours to clandestine clubs and secret woodlands. The thirty-minute episode will be divided into three main segments, covering previously unseen historic artefacts which belonged to Isambard Kingdom Brunel, through to science and street art.
Dave Mason, Executive Producer, from Mentor Digital said: "Bristol has a treasure trove of achievements, sights and experiences available to enjoy and appreciate. From Luke Jerram's world inspiring water slide and global piano installations, to Bristol's production of the Bloodhound supersonic car, which follows on from the city's historic excellence with Concorde, the Great Western Railway, and the SS Great Britain ocean liner – this programme demonstrates the city's passion and ambition is genuinely limitless."
Chris James, Made in Bristol's Station Manager adds: "It's a real pleasure to air a programme like 'Hidden Bristol'. With more than 170,000 viewers tuning in each week, we're committed to growing the amount of quality, Bristol focused content on the station and 'Hidden Bristol' is a prime example of an interesting, relevant and entertaining show dedicated to the people and city of Bristol." 
Block Exception:System.NullReferenceException: Object reference not set to an instance of an object. at MentorTraining.Website.Models.UmbracoTemplateModels.TeamMemberModel..ctor(IPublishedContent content) at ASP._Page_Views_Partials_AuthorBlock_cshtml.Execute() in c:\Mentor\Applications\live\live.mentormediatraining\views\Partials\AuthorBlock.cshtml:line 8 at System.Web.WebPages.WebPageBase.ExecutePageHierarchy() at System.Web.Mvc.WebViewPage.ExecutePageHierarchy() at System.Web.WebPages.WebPageBase.ExecutePageHierarchy(WebPageContext pageContext, TextWriter writer, WebPageRenderingBase startPage) at Umbraco.Core.Profiling.ProfilingView.Render(ViewContext viewContext, TextWriter writer) at System.Web.Mvc.Html.PartialExtensions.Partial(HtmlHelper htmlHelper, String partialViewName, Object model, ViewDataDictionary viewData) at WebBlocks.Views.RenderingEngines.PartialViewRenderingEngine.Render(HtmlHelper html)