One-to-One
Media Coaching
One-to-one coaching
Aimed at senior executives and those with hectic diaries, we can support your senior team with one-to-one events in their environment, with our portable radio and TV kit. These intense sessions are often run as half and one day coaching.
Many of the executives and business people we work with have very hectic schedules and often require personalised one-to-one media coaching sessions.
Available either in-person, or as an e-learning remote course, we can cater for your time, location and circumstances, offering flexible, competitive training packages.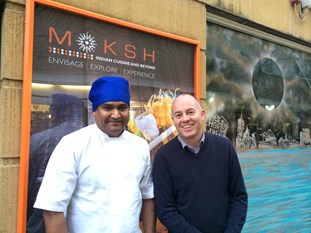 Mentor is very happy to accommodate executive diaries and work on half day sessions where a senior manager simply needs some 'brushing up'.
We work closely with PR agencies and business owners to get the best out of their performance, often prior to press, radio and TV appearances.
Pictured here, Stephen Gomes, award-winning gastro-chef in South Wales, shortly before an appearance on BBC2's 'Great British Menu'.
We have coached business leaders before appearances on high profile cookery shows, consumer programmes and national news programmes.